Introduction
Self-Sustaining Organization
The A. B. Won Pat International Airport Authority, Guam is a self -sustaining autonomous government agency and the only civil airport operator on the island. Established in 1974, the Guam Airport is the people's pride, with over 3.8M passengers processed annually.
Mission
Our mission is to ensure the safety and security of the traveling public, maintain superior and reliable level of airport services, and support the development of air services and facilities which are integral to the island's economic growth.
Vision
"Vision Hulo'" is a set of initiatives the Airport has undertaken to create future growth, development and opportunities for the Airport and for Guam that incorporates its capital improvement projects, revenue programs, increased services and enhanced operations.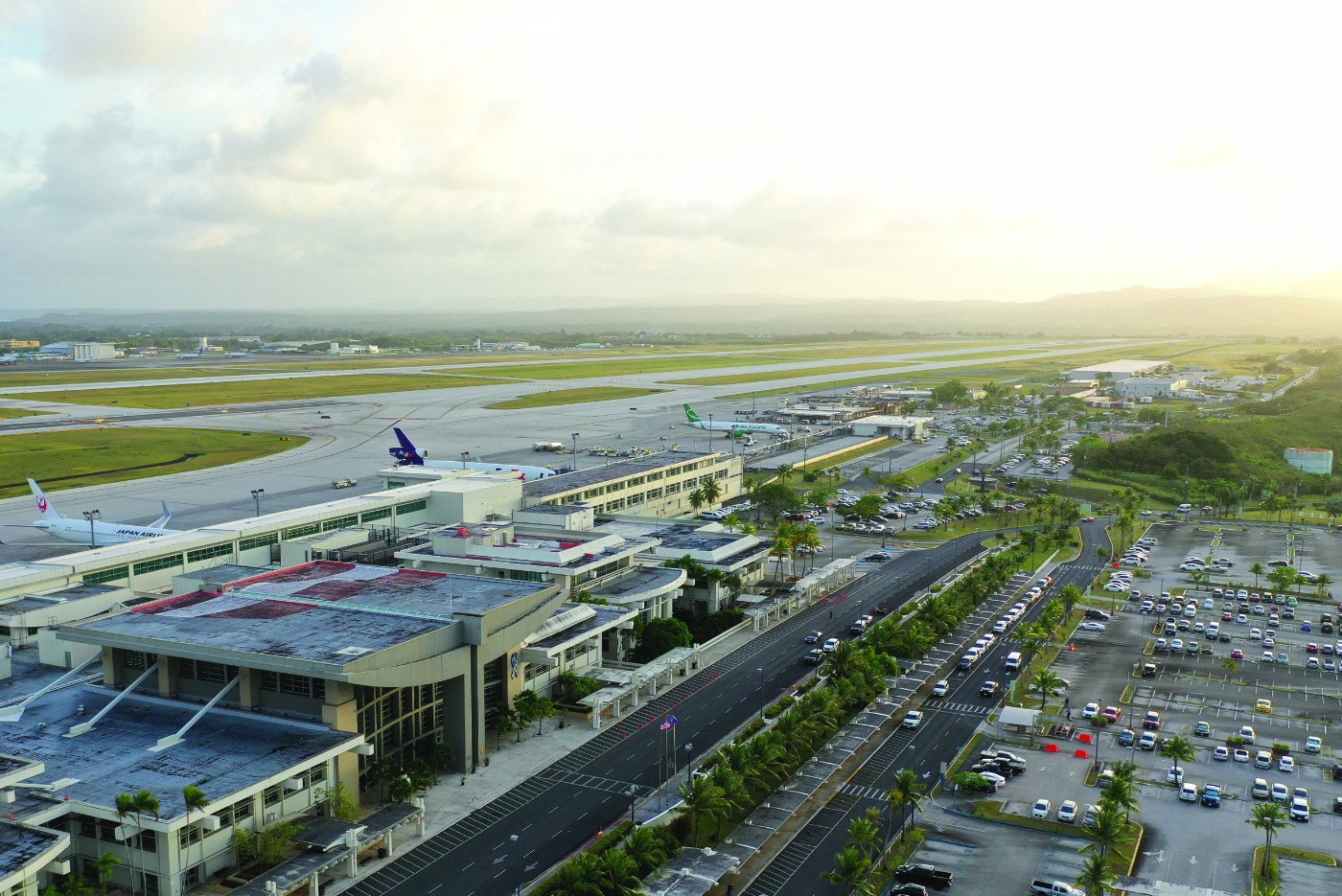 Our Year in Review
FY 2021 was one of the most challenging years in the A.B. Won Pat International Airport Authority, Guam's (GIAA) history, as the COVID-19 Pandemic continued to cause unprecedented turbulence in in the world economy.
Much uncertainty on Guam's air traffic recovery prevailed throughout the year, as Governments took action to slow the spread of infection by introducing travel restrictions, imposing lockdowns, requiring quarantine measures and stay-at-home orders, dealing a dramatic blow to our tourism-based economy.
While these measures helped control the spread of infection, it had an overwhelming effect on total passengers processing through the Guam International Airport.
WE CARE - Health and Safety at the Airport
As an essential facility provider, the Guam Airport was federally obligated to remain open despite government restriction. To operate safely and securely throughout the pandemic, the Authority developed and implemented measures in its WE CARE program which addressed health measures set forth by the USCDC and in conformance to FAA's Runway to Recovery framework to mitigate the spread of COVID 19, an incorporated measure undertaken by our airlines and tenants in its conduct of business under health protocols mandated by the Guam Public Health and Social Services.
Guam International Airport's collective efforts under the WE CARE program earned the Authority a "Safe Travel" designation established by the World Travel and Tourism Council and enabled the Authority to achieve accreditation under the Airports Council International Health Accreditation Program.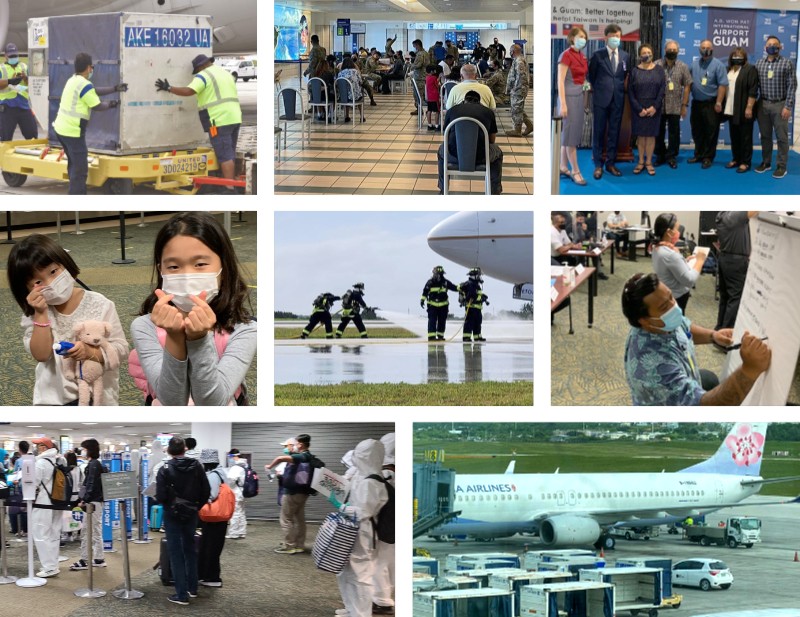 FY2021 Key Take-Aways: YOY Comparisons Chart
TOTAL PASSENGERS
TOTAL REVENUE
TOTAL GRANTS
(US & GOVGUAM)
TOTAL EXPENSES
COST PER ENPLANED PASSENGER
TOTAL ASSETS & DEFERRED OUTFLOW OF RESOURCES
TOTAL NET POSITION
DEBT SERVICE COVERAGE
222,603
$68,807,141
$20,442,607
$67,223,154
$49
$615,117,164
$281,896,087
1.51
-86.7%

-9.2%

35.4%

-16.2%

131.9%

0.25%

0.6%

-12.2%

Capital Improvement Projects
The Guam International Airport prioritized federally-funded projects or projects essential to maintaining airport operations and compliance with FAR Part 139. These projects consisted of:
Third Floor International Arrivals Corridor with Seismic Upgrades
This project consists of construction of a new international arrivals corridor that will separate arriving non-TSA-screened passengers from departing TSA-screened passengers, as well as seismic upgrades to the passenger terminal building infrastructure to support the new Third Floor International Arrivals Corridor. This project is substantially completed and partially operational as the general contractors complete the "punch list" phase to finish off any outstanding work items. Total project costs are expected to be approximately $136 million. Sources of funding for this project included proceeds from the Series 2013 Bonds, capital improvement funds and FAA entitlement grants.
Aircraft Rescue and Fire Fighting Facility
This project consists of construction of a new aircraft rescue and fire fighting facility that will improve response time to potential emergencies. This project is currently under construction and expected to be completed in FY 2022. Total project costs are expected to be approximately $23.4 million. The Authority anticipates this project will be 90% funded with FAA discretionary funds and 10% funded with Authority funds.
Runway 6L/24R Rehabilitation
This project consists of two phases. The first phase includes the rehabilitation and reconstruction of over 1,550 linear feet of runway (Phase 1a) and the rehabilitation and reconstruction of an additional 1,450 linear feet of runway (Phase 1b). Phase 1a and Phase 1b are currently in progress and expected to be completed by the end of April 2022. The second phase (Phase 2), which will include the rehabilitation of over 4,000 linear feet of runway previously constructed using Portland Cement Concrete pavement, is expected to be completed by September 2022. Total project costs are expected to be approximately $25 million. The Authority expects this project will be 90% funded with FAA funds and 10% funded with Authority funds.

Projects in Planning Process
Master Plan Update
The COVID-19 pandemic delayed the Authority's plans to update its airport master plan that was last completed in 2012. Once this update is complete, the Authority will be able to identify and prioritize projects as part of its capital improvement program. The Authority has engaged with a consultant to conduct the master plan update. The Notice to Proceed was issued in November 2021 and scoping meetings are ongoing. This project is expected to be completed by February 2023 and is 90% funded with FAA discretionary funds and 10% funded with Authority funds.
Part 150 Noise Study Update
This project will provide professional consulting services to conduct all facets of a FAR Part 150 Noise Compatibility Study for the Authority. The purpose of the proposed Part 150 Noise Compatibility Study is to develop updated noise exposure maps for land use planning and noise mitigation in and around Guam, and to update the Authority's Noise Compatibility Program. The Authority anticipates this project will be 90% funded with FAA discretionary funds and 10% funded with Authority funds.
Cargo Apron/Fuel System Extension
This project includes constructing a cargo apron and connecting taxiway and extending the Airport's fuel system to service the Integrated Air Cargo Facility located approximately one-half mile west of the air terminal. The Authority anticipates this project will be 90% funded with FAA discretionary funds and 10% funded with Authority funds.
Supporting Operations and Enhancing Security
Closed borders, lock-downs, entry restrictions, quarantine rules, both on Guam and at our source markets, and new variants of the virus - from Alpha to Delta to Omicron - resulted in continued suspensions of many of our flights, with only essential services to Honolulu, Manila, Narita, and Seoul, and occasional charters to Taiwan, Incheon and neighboring islands were the only air services to and from Guam throughout the most part of Fiscal Year 2021.
Protecting Our Business
Pivoting to maintaining business integrity during this challenging time, the Airport worked with airlines and tenants to meet public health ordinances and requirements to support essential air services. We packaged these initiatives under a comprehensive WE CARE program that incorporates facility enhancements, social distancing, sanitation and disinfection, utilization of touchless technology and corporate governance.
In line with the Centers for Disease Control and Prevention guidelines, we enhanced sanitation requiring face masks for terminal entry, installing hand sanitizing stations in all areas, increasing the frequency and intensity of efforts with custodial contracts, commissioning electrostatic fogging of gates and restroom areas after each flight, installing UV filtering in handling systems, sanitizing baggage carts and installing touchless technology in our restrooms.
We assessed the terminal facility and implemented measures to maintain social distancing:
Installing transparent barriers at all passenger processing points
Marking passenger positioning in all terminal areas
Developing new queueing systems for passenger processing areas
In response to the impact on our airlines, concessionaires and other service providers, the Guam International Airport worked with our valued partners in:
Adjusting their schedules to ensure a certain level of services were available during active flight times while minimizing the number of passengers to potential exposure

Supporting airlines and tenants with economic relief options in

line with FAA guidelines and regulations

Consolidating passenger operations to the West Wing of the Guam International Airport, suspending operations of 12 of 19 passenger service gates, allowing us to control utility and maintenance costs
Providing periodic updates of current situations and future measures with our airport stakeholders and Airport Operating Committee consisting of representatives from all tenants and vendors
As the fiscal year closed, air services were slowly resuming and increasing in frequency.
Looking forward, the Airport acknowledges there are risks to our recovery - our airline partners' financial health and our travel market's lifting of restrictions, vaccination, and control of outbreaks of COVID-19. However, the Airport, together with the Guam Visitors Bureau are positioning ourselves for the rebound of travel working with our travel markets in promoting our safe environment, providing incentives to tour operators and financial relief to airlines and other stakeholders to stimulate demand.
The challenge before us is our opportunity to do things better in this new normal travel environment. The Guam International Airport is up to the challenge!
The Airport assessed critical functions within our organization and designated mission-essential operations personnel to meet our FAR Part 139 requirements. We also worked to minimize contact and transmission among our employees by:
Implementing remote work measures to minimize the full outbreak of the workforce
Providing full personal protective equipment and gear to support employees on essential duty
Installing transparent barriers to enforce social distancing within the office environment
Limiting face-to-face contact and utilize technology for safe communications
Implementing flexible scheduling to minimize staff mingling and exposure and provide fallback, if needed

Statistics
Passengers
| | ARRIVALS | TRANSIT | DEPARTURES |
| --- | --- | --- | --- |
| FY2021 | 88,037 | 33,870 | 101,696 |
| FY2020 | 794,593 | 100,528 | 783,532 |
| FY2019 | 1,715,346 | 164,546 | 1,720,562 |
| FY2018 | 1,625,932 | 184,518 | 1,596,054 |
| FY2017 | 1,703,240 | 197,831 | 1,660,548 |

Number of Flights
FY2021
12,048
FY2020
29,834
FY2019
54,538
FY2018
54,592
FY2017
60,434
Gross

Take-Off Weight*
| | |
| --- | --- |
| FY2021 | 1,582,331 |
| FY2020 | 2,575,583 |
| FY2019 | 3,372,358 |
| FY2018 | 3,061,959 |
| FY2017 | 3,382,805 |
* GTOW; in 1,000 lbs.
Air Cargo*
| | |
| --- | --- |
| FY2021 | 20,313 |
| FY2020 | 22,636 |
| FY2019 | 12,827 |
| FY2018 | 12,794 |
| FY2017 | 14,624 |
* in Metric Tons
Mail*
| | INCOMING | OUTGOING |
| --- | --- | --- |
| FY2021 | 12,169 | 6,258 |
| FY2020 | 5,806 | 2535 |
| FY2019 | 4,762 | 2,118 |
| FY2018 | 4,387 | 2,085 |
| FY2017 | 4,845 | 1,967 |
* in Metric Tons
Financial Statements & Downloads
A.B. Won Pat International Airport, Guam
P.O. Box 8770 • Tamuning, Guam 96931
T (671) 646-0300 • F (671) 646-8823
www.guamairport.com