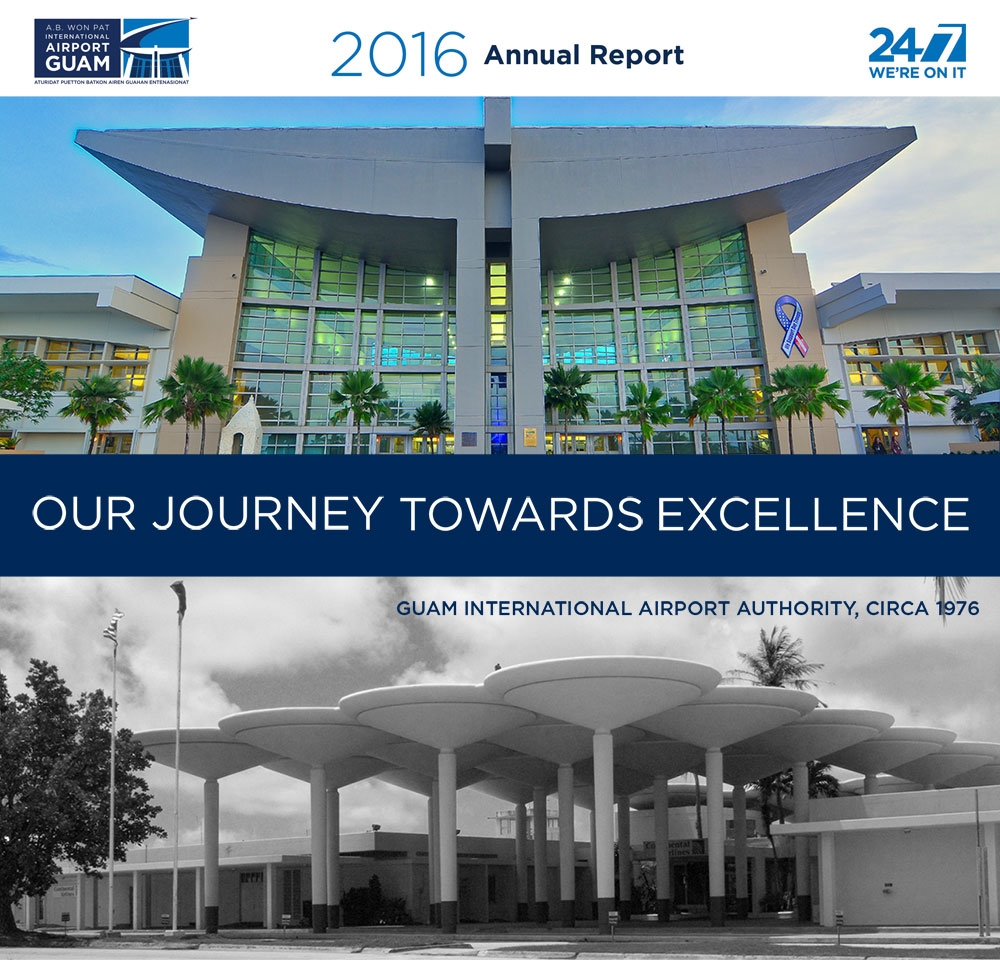 Introduction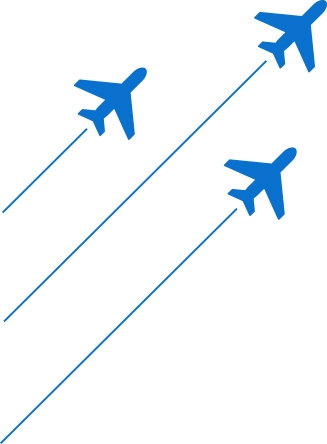 Our Mission
To ensure the safety and security of the traveling public, maintain a superior and reliable level of airport services for island and regional residents and tourist and support the development of air linkages and support facilities integral to the islands economic growth.
Our Values
Commitment and Integrity are the foundation of our organization.
We value our people. We are committed to our customers. We maintain exemplary business practices. We succeed with our partners.
Our Vision
Setting the standard in excellence as a world-class airport and premier aviation hub in the region.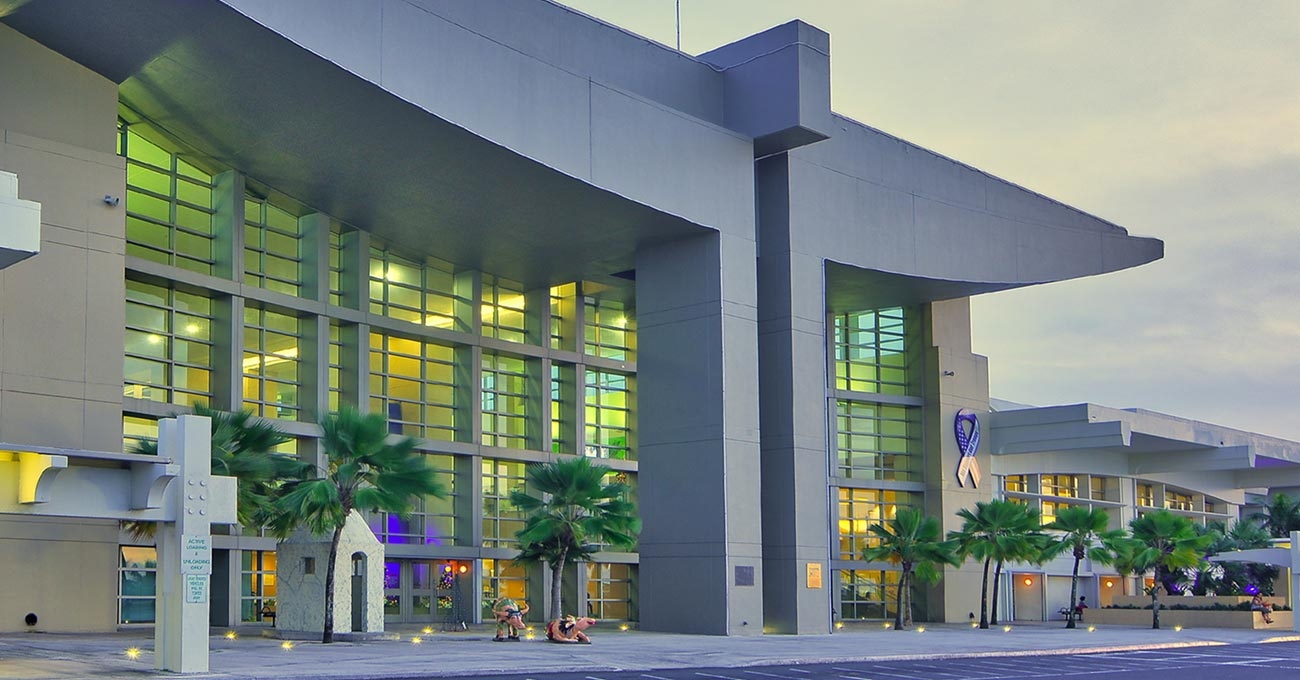 Capital Improvement Projects | Air Service Development
Capital Improvement Projects
Building On Our Vision
Over $167 Million in capital improvement projects are in differing stages of completion. Funding for the Airport's Capital Improvement Projects were funded by TSA, FAA and Proceeds from GIAA's 2013 Revenue.
Automated Passport Control Kiosks ($600 thousand)

GIAA acquired 8 Automated Passport Control Kiosks to help increase efficiency during Customs and Border Protection processes in hopes of reducing processing times by as much as 33-58%.

The Concourse Isolation project and 3rd Floor International Arrivals Corridor ($96.9 million)

The construction of this project will be a permanent solution to the TSA unfunded mandate to separate arriving and departing passengers, and finally eliminate the temporary partitions that run through the existing concourse, restoring its former aesthetically pleasing environment. In addition, it would alleviate congestion, maximizing gate utilization, improve passenger facilitation and enhance the services the Authority can offer and capture additional revenue.
Air Service Development
Expanding Our Reach
Air Service Development is critical component of our business. Guam's tourism is dependent on the Airport maintaining existing services, attracting new airlines and expanding our destination base.
The Airport, with the support of Guam Visitors Bureau and the Guam Economic Development Authority, went out to the market and promoted the Guam Airport facility as a viable place to do business and Guam as a great place to visit.
In 2016, the Airport welcomed to new airlines, Cebu Pacific and HK Express, allowing for more options for customer to travel to Guam.
Cebu Pacific operates 4 times weekly from Manila. Now 3 airlines service this route.
HK Express operates 4 times weekly from Hong Kong. Now 2 airlines service this route
Our Flight Network
Continuing to Grow
Air Busan
Arctic Circle
Asia Pacific Airlines (cargo)
Cape Air
Cebu Air
China Airlines
Delta Air Lines
EVA Airways
FedEx (cargo)
Hong Kong Express
Japan Airlines
Jeju Air
Jin Air
Korean Air
Philippine Airlines
Star Marianas
T'Way Air
United Airlines
UPS (cargo)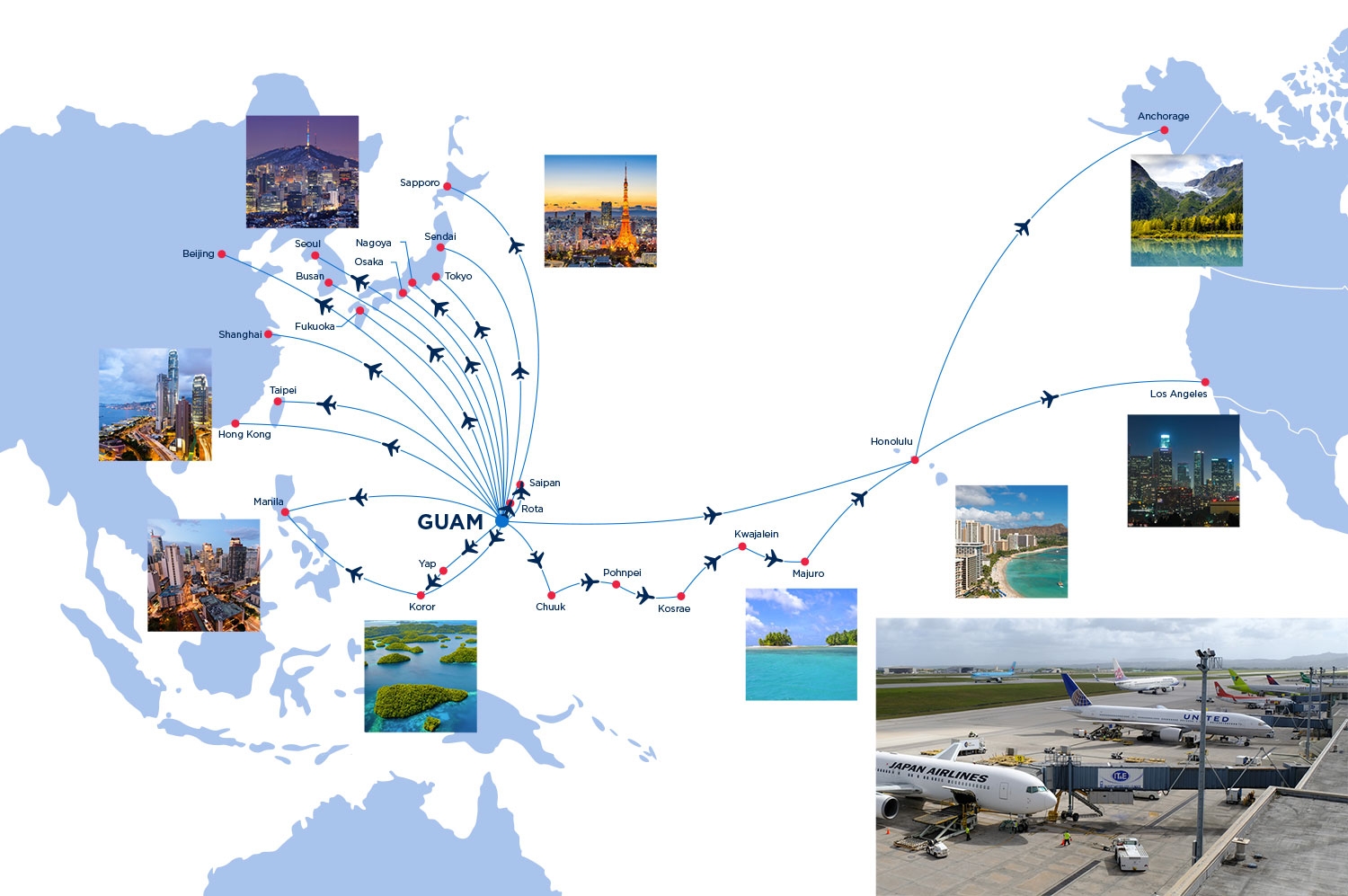 Safety & Operations
Practicing Safety First
We have raised the regional standard with an outstanding compliance report from the Federal Aviation Administration (FAA).
Our annual certification inspection and testing in over 123 fields, certified the Guam Airport as having met and exceeded federal standards for safety and best practices in the region and became the first ever in the region to receive "0" discrepancies and 100% compliance.
GIAA beat out major players like the Honolulu International Airport. Regional airport partners continue to seek out Guam's Airport for training and best practices support, most recently from the Pohnpei International Airport, FSM and Palau International Airport, Republic of Palau solidifying Guam Airport as the regional leader in aviation in the Asia/Pacific region.
Community Outreach
Investing In Our People
As the Airport expands its operations, and the aviation industry moves towards more technology to support passenger services, the Guam Airport has invested over $900,000.00 in customer services improvements:
To expedite passenger processing, the Airport introduced new technology - eight units of the Automated Passport Control kiosks - that improve passenger processing upon entry to Guam with self processing capability. USCBP Hall.
The Airport also created multi language instructional brochures for placement in passenger seat pockets, to assist our foreign visitors in filling out entry forms and customs forms.
GIAA Milestones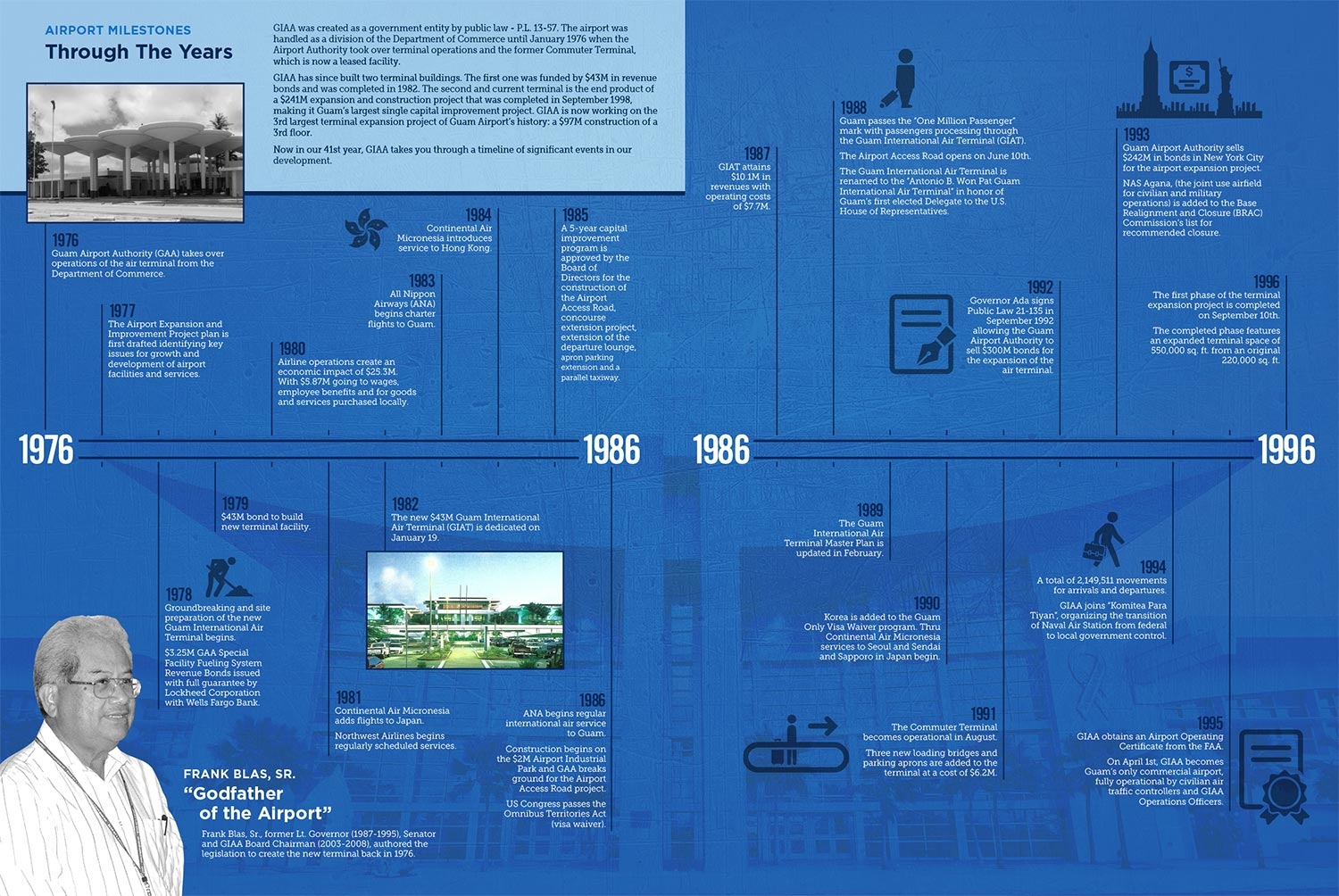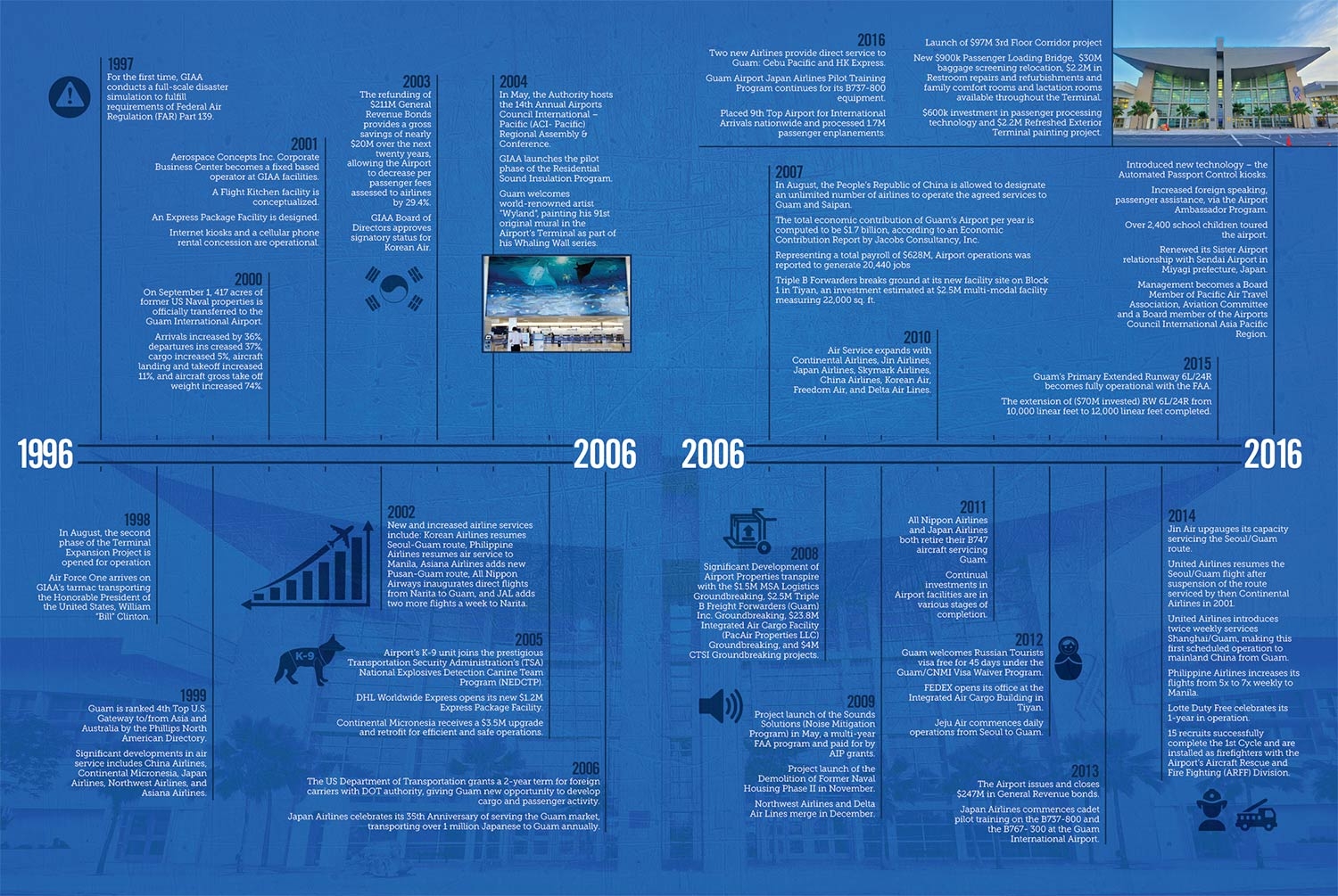 Airport Milestones
Through The Years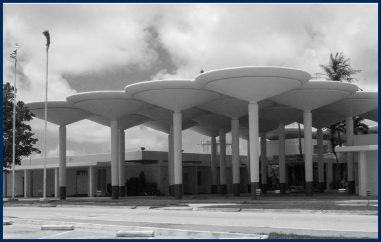 GIAA was created as a government entity by public law - P.L. 13-57. The airport was handled as a division of the Department of Commerce until January 1976 when the Airport Authority took over terminal operations and the former Commuter Terminal, which is now a leased facility.
GIAA has since built two terminal buildings. The first one was funded by $43M in revenue bonds and was completed in 1982. The second and current terminal is the end product of a $241M expansion and construction project that was completed in September 1998, making it Guam's largest single capital improvement project. GIAA is now working on the 3rd largest terminal expansion project of Guam Airport's history: a $97M construction of a 3rd floor.
Now in our 41st year, GIAA takes you through a timeline of significant events in our development.
1976

Guam Airport Authority (GAA) takes over operations of the air terminal from the Department of Commerce.

1977

The Airport Expansion and Improvement Project plan is first drafted identifying key issues for growth and development of airport facilities and services.

1978

Groundbreaking and site preparation of the new Guam International Air Terminal begins.

$3.25M GAA Special Facility Fueling System Revenue Bonds issued with full guarantee by Lockheed Corporation with Wells Fargo Bank

1979

$43M bond to build new terminal facility.

1980

Airline operations create an economic impact of $25.3M. With $5.87M going to wages, employee benefits and for goods and services purchased locally.

1981

Continental Air Micronesia adds flights to Japan.

Northwest Airlines begins regularly scheduled services.

1982

The new $43M Guam International Air Terminal (GIAT) is dedicated on January 19.

1983

All Nippon Airways (ANA) begins charter flights to Guam.

1984

Continental Air Micronesia introduces service to Hong Kong.

1985

A 5-year capital improvement program is approved by the Board of Directors for the construction of the Airport Access Road, concourse extension project, extension of the departure lounge, apron parking extension and a parallel taxiway.

1986

ANA begins regular international air service to Guam.

Construction begins on the $2M Airport Industrial Park and GAA breaks ground for the Airport Access Road project.

US Congress passes the Omnibus Territories Act (visa waiver).

1987

GIAT attains $10.1M in revenues with operating costs of $7.7M.

1988

Guam passes the "One Million Passenger" mark with passengers processing through the Guam International Air Terminal (GIAT).

The Airport Access Road opens on June 10th.

The Guam International Air Terminal is renamed to the "Antonio B. Won Pat Guam International Air Terminal" in honor of Guam's first elected Delegate to the U.S. House of Representatives.

1989

The Guam International Air Terminal Master Plan is updated in February.

1990

Korea is added to the Guam Only Visa Waiver program. Thru Continental Air Micronesia services to Seoul and Sendai and Sapporo in Japan begin.

1991

The Commuter Terminal becomes operational in August.

Three new loading bridges and parking aprons are added to the terminal at a cost of $6.2M.

1992

Governor Ada signs Public Law 21-135 in September 1992 allowing the Guam Airport Authority to sell $300M bonds for the expansion of the air terminal.

1993

Guam Airport Authority sells $242M in bonds in New York City for the airport expansion project.

1994

A total of 2,149,511 movements for arrivals and departures.

GIAA joins "Komitea Para Tiyan", organizing the transition of Naval Air Station from federal to local government control.

1995

GIAA obtains an Airport Operating Certificate from the FAA.

On April 1st, GIAA becomes Guam's only commercial airport, fully operational by civilian air traffic controllers and GIAA Operations Officers.

1996

The first phase of the terminal expansion project is completed on September 10th.

The completed phase features an expanded terminal space of 550,000 sq. ft. from an original 220,000 sq. ft.

1997

For the first time, GIAA conducts a full-scale disaster simulation to fulfill requirements of Federal Air Regulation (FAR) Part 139.

1998

In August, the second phase of the Terminal Expansion Project is opened for operation

Air Force One arrives on GIAA's tarmac transporting the Honorable President of the United States, William "Bill" Clinton

1999

Guam is ranked 4th Top U.S. Gateway to/from Asia and Australia by the Phillips North American Directory.

Significant developments in air service includes China Airlines, Continental Micronesia, Japan Airlines, Northwest Airlines, and Asiana Airlines.

2000

On September 1, 417 acres of former US Naval properties is officially transferred to the Guam International Airport.

Arrivals increased by 36%, departures ins creased 37%, cargo increased 5%, aircraft landing and takeoff increased 11%, and aircraft gross take off weight increased 74%.

2001

Aerospace Concepts Inc. Corporate Business Center becomes a fixed based operator at GIAA facilities.

A Flight Kitchen facility is conceptualized.

An Express Package Facility is designed.

Internet kiosks and a cellular phone rental concession are operational.

2002

New and increased airline services include: Korean Airlines resumes Seoul-Guam route, Philippine Airlines resumes air service to Manila, Asiana Airlines adds new Pusan-Guam route, All Nippon Airways inaugurates direct flights from Narita to Guam, and JAL adds two more flights a week to Narita.

2003

The refunding of $211M General Revenue Bonds provides a gross savings of nearly $20M over the next twenty years, allowing the Airport to decrease per passenger fees assessed to airlines by 29.4%.

GIAA Board of Directors approves signatory status for Korean Air

2004

In May, the Authority hosts the 14th Annual Airports Council International - Pacific (ACI-Pacific) Regional Assembly & Conference.

GIAA launches the pilot phase of the Residential Sound Insulation Program.

Guam welcomes world-renowned artist "Wyland", painting his 91st original mural in the Airport's Terminal as part of his Whaling Wall series.

2005

Airport's K-9 unit joins the prestigious Transportation Security Administration's (TSA) National Explosives Detection Canine Team Program (NEDCTP).

DHL Worldwide Express opens its new $1.2M Express Package Facility.

Continental Micronesia receives a $3.5M upgrade and retrofit for efficient and safe operations.

2006

The US Department of Transportation grants a 2-year term for foreign carriers with DOT authority, giving Guam new opportunity to develop cargo and passenger activity.

Japan Airlines celebrates its 35th Anniversary of serving the Guam market, transporting over 1 million Japanese to Guam annually.

2007

In August, the People's Republic of China is allowed to designate an unlimited number of airlines to operate the agreed services to Guam and Saipan.

The total economic contribution of Guam's Airport per year is computed to be $1.7 billion, according to an Economic Contribution Report by Jacobs Consultancy, Inc.

Representing a total payroll of $628M, Airport operations was reported to generate 20,440 jobs

Triple B Forwarders breaks ground at its new facility site on Block 1 in Tiyan, an investment estimated at $2.5M multi-modal facility measuring 22,000 sq. ft.

Introduced new technology - the Automated Passport Control kiosks.

Increased foreign speaking, passenger assistance, via the Airport Ambassador Program.

Over 2,400 school children toured the airport.

Renewed its Sister Airport relationship with Sendai Airport in Miyagi prefecture, Japan.

Management becomes a Board Member of Pacific Air Travel Association, Aviation Committee and a Board member of the Airports Council International Asia Pacific Region.

2008

Significant Development of Airport Properties transpire with the $1.5M MSA Logistics Groundbreaking, $2.5M Triple B Freight Forwarders (Guam) Inc. Groundbreaking, $23.8M Integrated Air Cargo Facility (PacAir Properties LLC) Groundbreaking, and $4M CTSI Groundbreaking projects.

2009

Project launch of the Sounds Solutions (Noise Mitigation Program) in May, a multi-year FAA program and paid for by AIP grants.

Project launch of the Demolition of Former Naval Housing Phase II in November.

Northwest Airlines and Delta Air Lines merge in December.

2010

Air Service expands with Continental Airlines, Jin Airlines, Japan Airlines, Skymark Airlines, China Airlines, Korean Air, Freedom Air, and Delta Air Lines.

2011

All Nippon Airlines and Japan Airlines both retire their B747 aircraft servicing Guam.

Continual investments in Airport facilities are in various stages of completion.

2012

Guam welcomes Russian Tourists visa free for 45 days under the Guam/CNMI Visa Waiver Program.

FEDEX opens its office at the Integrated Air Cargo Building in Tiyan.

Jeju Air commences daily operations from Seoul to Guam

2013

The Airport issues and closes $247M in General Revenue bonds.

Japan Airlines commences cadet pilot training on the B737-800 and the B767-300 at the Guam International Airport.

2014

Jin Air upgauges its capacity servicing the Seoul/Guam route.

United Airlines resumes the Seoul/Guam flight after suspension of the route serviced by then Continental Airlines in 2001.

United Airlines introduces twice weekly services Shanghai/Guam, making this first scheduled operation to mainland China from Guam.

Philippine Airlines increases its flights from 5x to 7x weekly to Manila.

Lotte Duty Free celebrates its 1-year in operation.

15 recruits successfully complete the 1st Cycle and are installed as firefighters with the Airport's Aircraft Rescue and Fire Fighting (ARFF) Division.

2015

Guam's Primary Extended Runway 6L/24R becomes fully operational with the FAA.

The extension of ($70M invested) RW 6L/24R from 10,000 linear feet to 12,000 linear feet completed.

2016

Two new Airlines provide direct service to Guam: Cebu Pacific and HK Express.

Guam Airport Japan Airlines Pilot Training Program continues for its B737-800 equipment.

Placed 9th Top Airport for International Arrivals nationwide and processed 1.7M passenger enplanements.

Launch of $97M 3rd Floor Corridor project

New $900k Passenger Loading Bridge, $30M baggage screening relocation, $2.2M in Restroom repairs and refurbishments and family comfort rooms and lactation rooms available throughout the Terminal.

$600k investment in passenger processing technology and $2.2M Refreshed Exterior Terminal painting project.
Statistics
A.B. Won Pat International Airport
A total of $167 Million is now being spent on over 22 capital improvement projects now in various stages of completion. This continues to fuel the job market providing local employment and growing the construction industry for the next 5 to 7 years. 2016

3,302,529

2015

3,351,229

2014

3,017,815

2013

3,017,815

2012

3,017,815

2011

3,017,815 2016

1.56M+

2015

1.48M+

2014

1.48M+

2013

1.48M+

2012

1.4M+

2011

1.26M+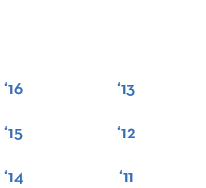 '11

46,030

'12

48,750

'13

52,725

'14

53,228

'15

55,974

'16

59,424